I picked up a set of Super ATV XT Warriors recently and just got a chance to get them mounted up over the weekend. I didn't have time to take them out for a ride just yet, but I wanted to get this thread started to put the info out there for anyone interested. I normally put all my opinions and thoughts about stuff I get for the rzr consolidated into my build thread, but in my research I noticed there wasn't many reviews or info floating around on the internet outside of the Super ATV website info and a couple short bits by the Slikrok Productions guys, so i wanted to put something together from an outside source for anyone interested. I'm not big on recording myself to do a youtube video review or anything (props to you guys that can put up with hearing yourselves talk lol, I just can't get myself to do it), so this is gonna be it!
Background info:
My machine is a moderately modified 2018 XPT4, for the full scoop on it, there's a link to my build thread in my signature, but for the purposes of tire info, the important parts are that I've done significant gear reduction in the transmission, stock clutches with SLP clutch parts, have upgraded almost all suspension components & tie rods, and added Super ATV chromoly +1.5" forward A-Arms. My wheels are 14" STI HD5 beadlocks in 5+2 offset with a set of 1" wheel spacers on the rear (just to even the width front to rear, not needed to clear the tires). I did a full alignment the same time I installed the tires, settings are -1.8° camber and 1/8" toe in, that may or may not be relevant to some in the long run.
My riding consists of about 50% rock crawling, 30% Open desert, and 20% Mountain trails....I avoid mud like the plague and don't really have any dunes within a reasonable distance.
Previous tires in comparison:
I ran the stock 29" bighorns on the machine for about 100 miles, then went to a set of 32" Pro Armor Crawler XG's that I ran for 2700 miles. The stock bighorns are a decent tire, and suit the needs for an off the showroom floor model, but aren't quite durable enough for my riding styles, and the 29" is just a bit small for the rocks. The Pro Armors did very well from a traction standpoint on the rocks, they were a decent desert tire, and a very good mountain tire. I did manage to cut a couple sidewalls on them, so I had a total of 6 tires ultimately. One sidewall failure was 100% an empty talent tank on my part, on the other I caught something in roadside drainage, not even sue what it was, and didn't even feel the hit, but it killed the sidewall pretty bad...I feel that a stronger sidewall tire might have prevented that failure. The MRT Kevlar version would be a better option if a guy was going to go with that tire, which I probably would have went with, except I wanted a 33 or 34" tire on a 14" wheel this time around, and MRT doesn't have those options. My biggest complaint about the pro armors was that they never measured anywhere near 32" tall... off the machine at 15 psi brand new the tallest one I ever had was 31.25", at the point of dismounting them, the best condition on had about 50% tread left and measured 30"... I understand tires don't measure perfectly true to size....but being that far off always disappointed me.
The decision:
Having 2800 miles on the machine over a year and a half I decided that my next set of tires would need to meet the following requirements:
--33-34" tall (in actual measured height) x 10" wide on a 14" wheel
--Sticky compound
--Be primarily a rock crawling tire
--Still have somewhat decent performance in the desert at speed
--Not be incredibly heavy ( Relatively speaking, I wanted to keep it under 70lbs at an absolute maximum with tire and wheel combined)
After several spurts of tire browsing over the last year, I looked at every option imaginable and had it narrowed down to three options...the Maxxis Roxxzilla, The SATV RT Warrior, or the SATV XT Warrior. None of which I felt would be a bad choice. After several conversations with Erik at SATV, some facebook chatter, e-mails to Maxxis, and the Slikrok videos, The Ultimate decision was the 34x10r14 XT Warrior in the sticky compound. The decision over the RT was primarily from Erik, who mentioned that the XT was the new hotness, and may eventually just solely fill the spot of the RT/XT lines. The AT Warrior is also out there for anyone that needs a DOT tire as well.
So in the order went, and a few days later UPS dropped off these beauties at my house: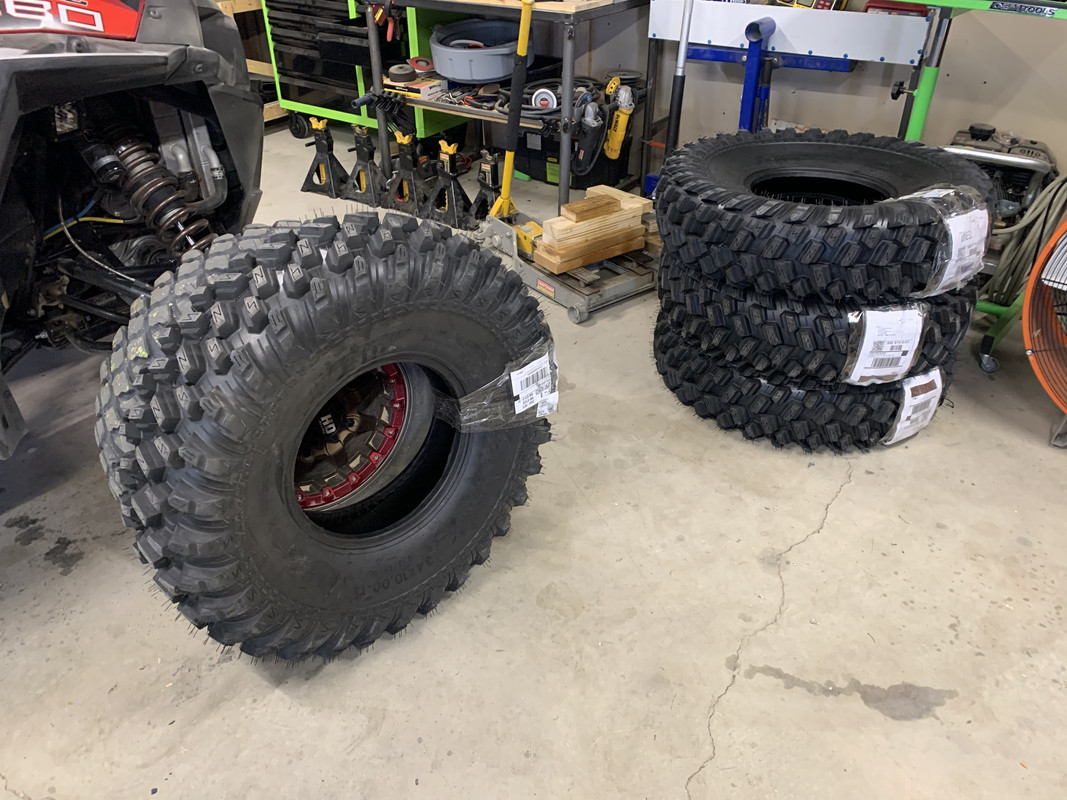 Initial thoughts & specific details:
--Tire weight: 52lbs / tire, mounted on the wheels, 67.6 lbs
--Overall height, measured at 10 psi off the machine: 33.75"
These tires have a noticeably thicker bead than any sxs tire i've been around before, it's right around 1/2" thick, compared to what I would call the "normal" 1/4" to 5/16". I actually had to use starter bolts on my beadlock rings to get the ring started, and ever after tightening down, there's still a good 1/4"gap between the lock ring and wheel, compared to maybe 1/16" previously with the XG's. Sealing doesn't seem to be an issue at all, they've been sitting for 2 days now, and as of this morning, they still had the same 10 psi I set them at initially. (Note that I've never had a issue with my beadlocks leaking air over time, I just felt that was worth noting)
The 1" tread depth and sticky compound combined to make this the softest tire I've ever put my hands on, you can twist the lugs by hand with ease, and dig your fingernail into them with little effort, according to my durometer, they measure about a 30A, which is crazy soft. I caution anyone that is concerned with longevity, or does any amount of frequent asphalt riding to go with the standard compound. I rode with a guy recently with a set of standard RT warriors, and the compound is noticeably harder. He was still very satisfied with the tires as far as traction on the rocks, just from my experience and rough guesstimate, I would say the standard compound will get you over 3000 miles, whereas I expect to get 1500 if I'm lucky out of the sticky compound. To me, that's not a downfall, I knew what to expect, but I want to express that again as a word of caution to anyone on the fence about the compound choice. I wanted the most grip possible on the rocks while still maintaining enough tire pressure to run the open desert at speed without having to air up/down at all (I'm lazy like that I guess), so i was willing to sacrifice some longevity for that performance / convenience.
Here's the 34" compared to my old XG's in 32", both at 10psi: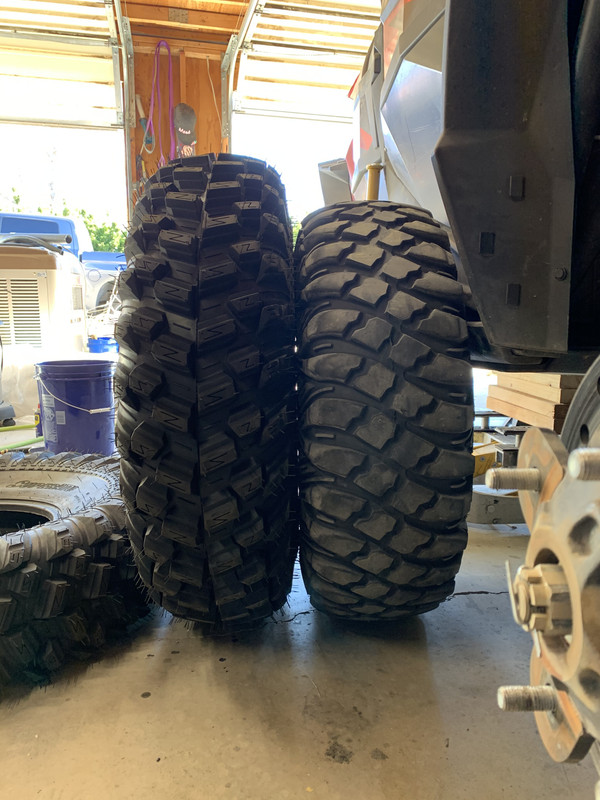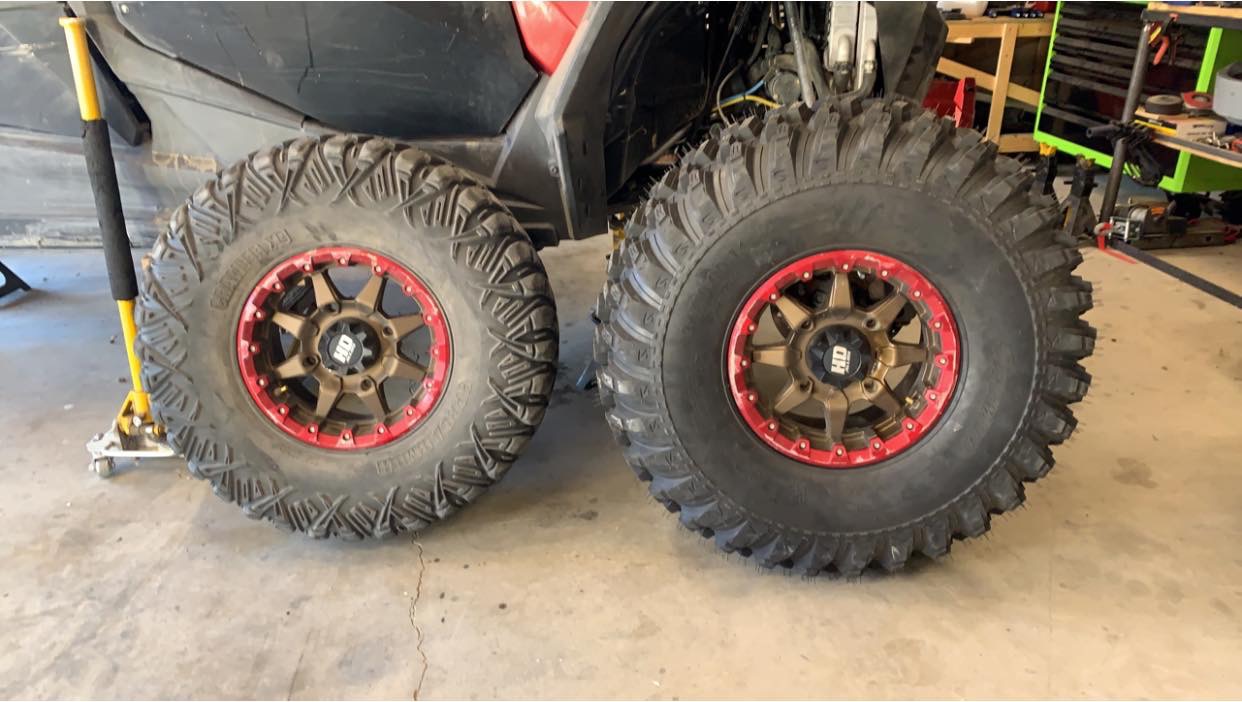 The guy i rode with recently with the RT warriors said he ran his at 5 psi and hadn't had any issues at all ( on beadlocks of course ), for the time being, I decided to stay with my usual 10 psi, I'll update if I change that for any reason, but it's seemed to always work well for me, and my machine is a bit to the heavy side to being with, total weight is about 2700 lbs with the usual passengers. I did notice that with the added sidewall flex, these tires do compress more under load than the XG's did, under the weight of the machine, the measure right at 33" tall, which is exactly where I wanted to be at.
Here's a good before and after the tire swap: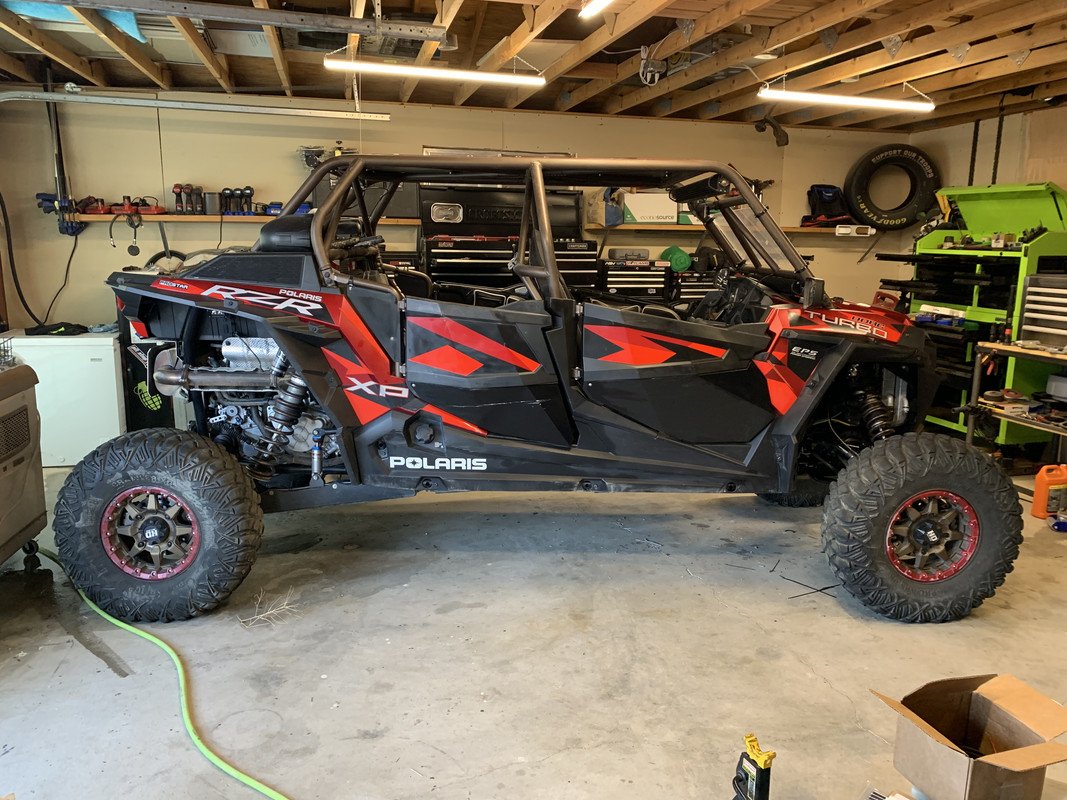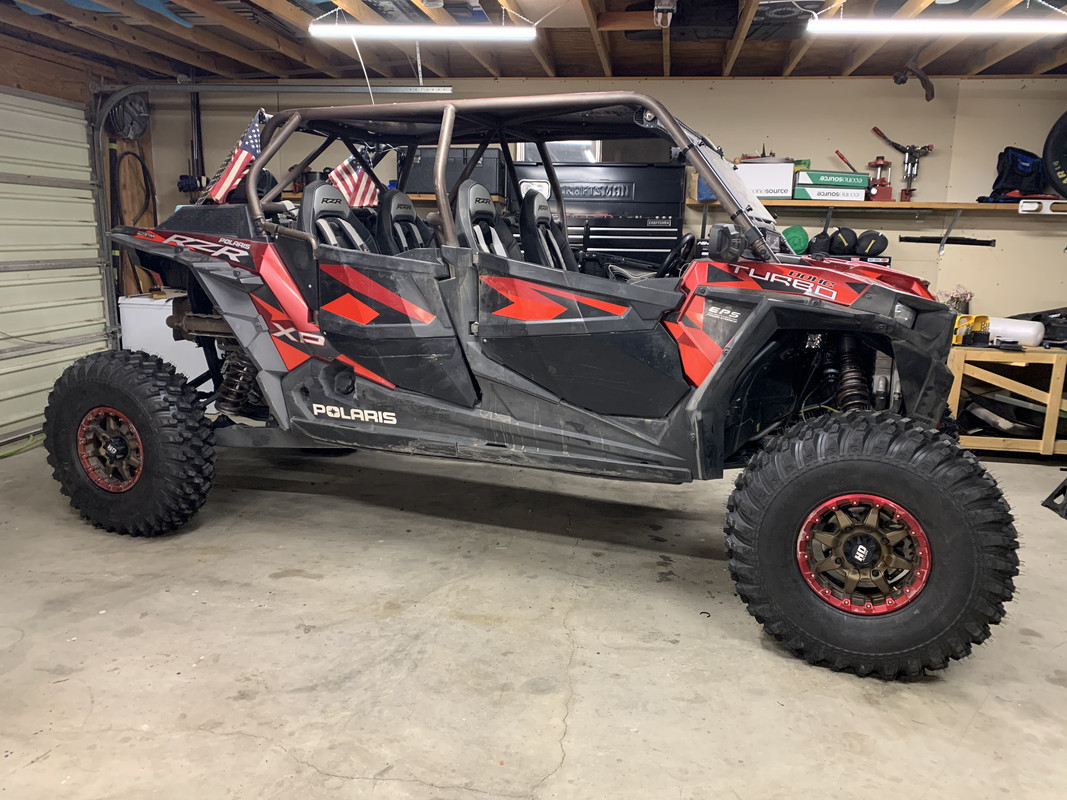 I'm anxious to get them out and get some good info, thoughts, and opinions to update with. It may be a couple weeks before I get a good ride in, but I will update when I have a good first impression report. I'll try and answer any questions anyone has about them in the meantime and after, hopefully this write up helps some of you guys out, onward!